YYC Comeback Launch!
Posted by Lee Yousef Real Estate Group on Thursday, July 30, 2020 at 8:00 AM
By Lee Yousef Real Estate Group / July 30, 2020
Comment

YYC Comeback: Helping Local Businesses Affected by COVID-19
YYC Comeback is a project created to help local businesses and business owners facing financial hardships because of COVID-19. As a local business and massive advocate of the community, we can't sit back and watch as the effects of the pandemic take more of Calgary's businesses.
The team at Lee Yousef & Associates is going to help selected businesses by offering digital marketing and PR services - Free of charge!
What's the catch? There seriously isn't one. We ask for a positive attitude and the willingness to receive help!
We're here to make an impact in our community and share our resources with those who need it most.
With the YYC Comeback project, our mission is to keep local businesses operating by leveraging the community and our networks for support.
Nominate a local business for YYC Comeback!
The Team
If there's one thing our team members have in common, it's our dedication, commitment, and love for the City of Calgary.
We're a new team of young and eager, like-minded individuals looking to make an impact in the community. We see a huge opportunity to combine our skills and experience to give back to the communities and businesses that have given us so much.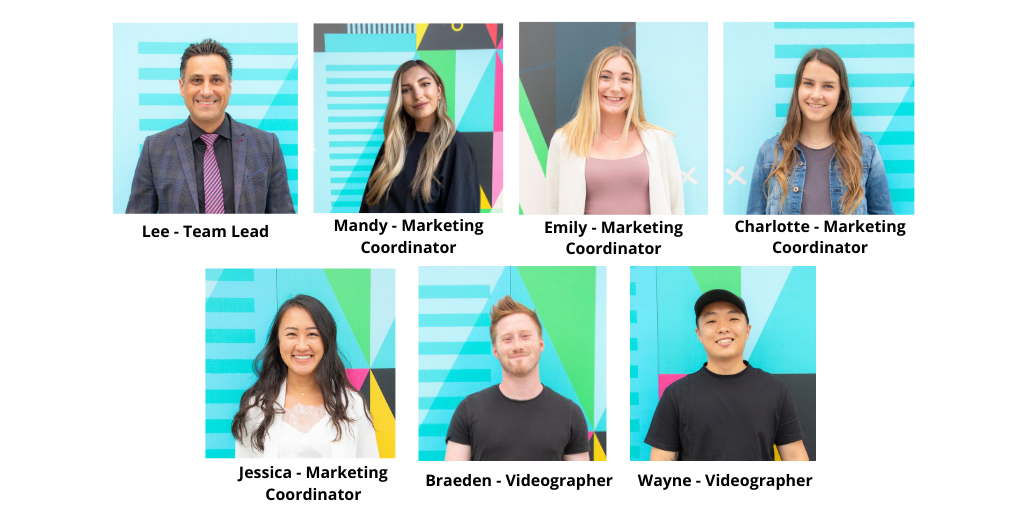 YYC Comeback is an initiative by Lee Yousef & Associates. As a full-service real estate company based in Calgary, we specialize in residential, commercial, and investment properties for clients looking to buy or sell a home. We have a team of highly-trained specialists that have a thorough understanding of the regional marketplace and communities. We work hard to ensure excellent service, privacy, speed, and efficiency to all home buyers and sellers. Lee Yousef & Associates is here for all your real estate needs.
Why We Care
Over the past 15 years, the Calgary community has been an integral part of our company's success - we wouldn't be a top-producing team without you - thank you!
Now it's time for us to return the favour.
We understand the love, sweat, and tears that each business is built on. They are the backbone of our local economy and give Calgary communities the character and charm that make our city unique.
With a forecast of at least 15% of our local small businesses facing permanent closure as a result of COVID-19, we could lose our favourite place to grab a coffee and the art galleries where local artists can show their work. We could lose a part of our city's identity.
"This storefront on 17th Avenue S.W. is one of several vacant spaces on the popular restaurant and shopping strip." (Photo taken from Bryan Labby/CBC)
Most importantly, business owners are losing their life's work.
Even with government aid, many are still struggling to cover the necessary overhead. Without an increase in revenue, the chances are that they will need to close permanently.
What We're Doing
Each business we help will receive a digital marketing package valued at over $10,000. They will have the support of all 7 team members who will be diligently working at promoting each business on all of Lee Yousef & Associate's social media channels and website.
The services include, but aren't limited to: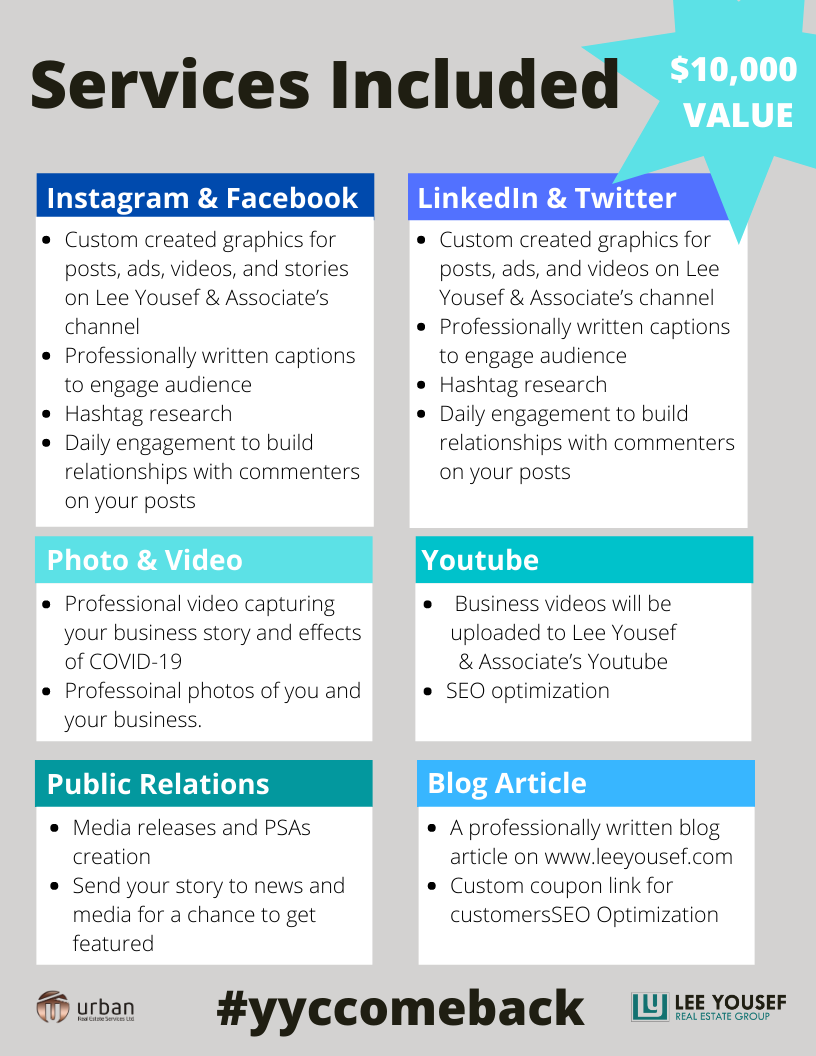 The Nomination and Selection Process
In this 3 step process, we'll only require your help with Step 1. After that, leave it to us!
Step 1: Nominate
Companies can include but are not limited to locally-owned restaurants, retail shops, salons and spas, or any other freelancer or business that would benefit from extra exposure and marketing support.
Please keep in mind that businesses must follow these criteria to be considered:
Must be a licensed/registered business located within the Calgary Metropolitan Area
Experienced significant loss of income due to COVID-19

Must be a franchise, sole-proprietorship or partnership

Businesses must not exceed more than 50 employees

Has reopened during Alberta's phased relaunch

Businesses must not exhibit behaviours, views, and practices that go against the Canadian Charter of Rights and Freedoms

Nominate a business using this form or the Form Below!
Step 2: Screening
It's important that we select businesses that we're confidently able to help. Our team will put nominees through a screening process to ensure that we choose the right ones for this project!
Step 3: Reaching Out
We'll only be reaching out to businesses that have been chosen. At this point, we will conduct a short interview to ensure that both parties are compatible, and that said business is open to being a part of YYC Comeback.
That's it!
What Else Can You Do To Help?
There are so many other ways you can contribute to this community initiative!
1) Follow us on our social platforms
We will be using multiple social media platforms to help these businesses. So be sure to like, follow, subscribe and share to maximize our impact.
As a thank you, we'll be partnering with the selected businesses to offer exclusive deals, that will be announced on our channels.
2) Use Hashtag #yyccomeback
Make sure to also use the hashtag #yyccomeback so we can see your support and repost!
3) Shop and Support Local
And of course, visit and support the fantastic local businesses in our city. You'll be making an incredible contribution to the local economy and can help save a treasured Calgary business.
Calgary, get ready because YYC Comeback is underway!