Calgary Market Report: July 2020
Posted by Lee Yousef Real Estate Group on Tuesday, August 18, 2020 at 10:01 AM
By Lee Yousef Real Estate Group / August 18, 2020
Comment

The Calgary real estate market has seen some ups and downs over these past few months, but the numbers show that things are starting to stabilize.
In our monthly market reports, we will break down the numbers and explain what they mean for buyers, sellers, and investors.
Watch the full Market Report here:
Active Listings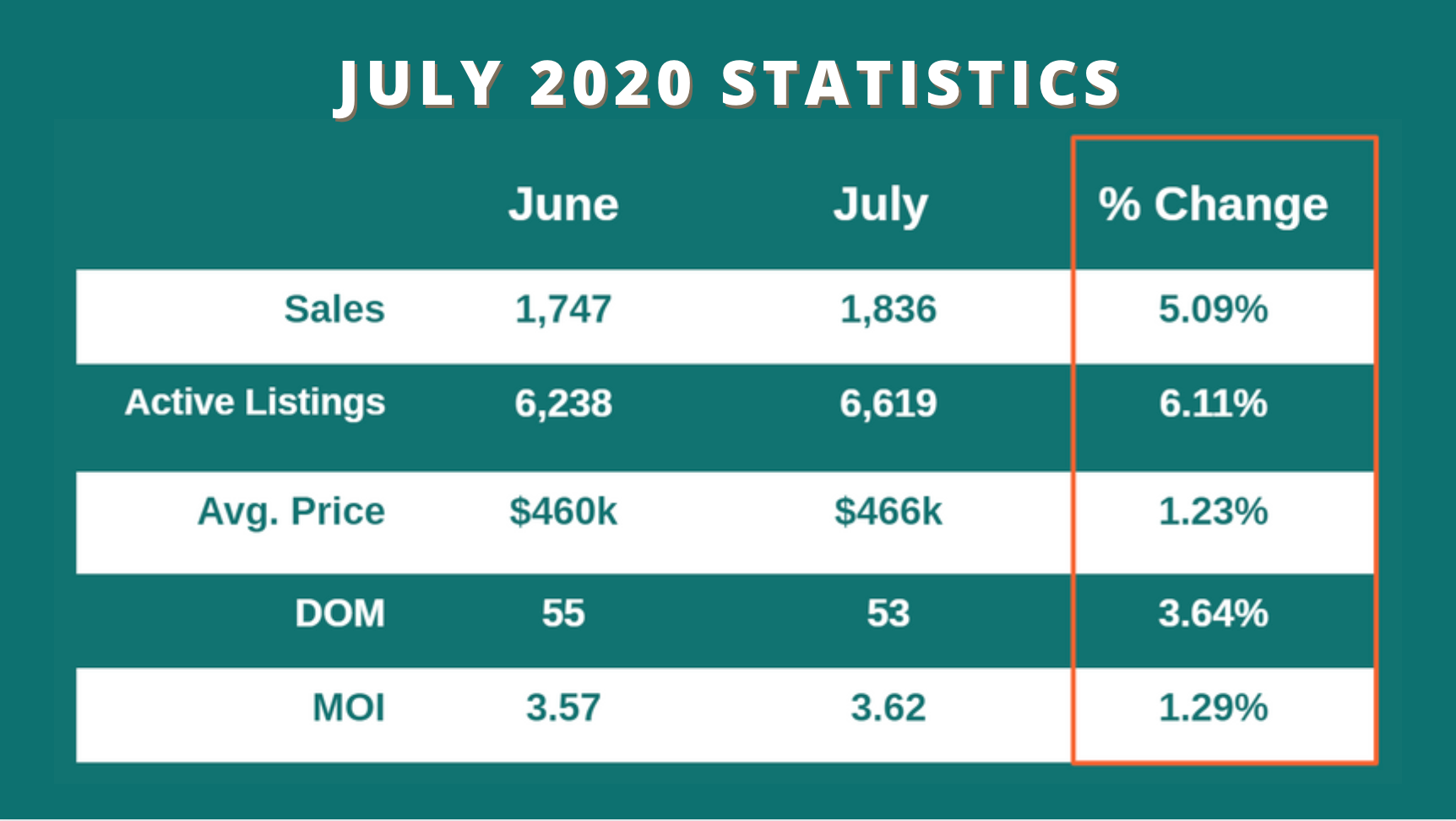 Compared to last month, active listings went up by approximately 5% from 1747 to 1836. This is significant, as the jump from the previous month was close to 10% with active listings of 6238 versus 6619, resulting in a 6% increase.
As sales activity increases, we expect that active listings will also increase because sellers will be motivated to list. This, coupled with consistent sales prices, will continue to drive prices upwards for the Calgary real estate market.
Average Price
Between June and July, Calgary real estate prices have increased by 1.23% from $460,000 to $466,000. Currently, days on market are exceptionally strong, with an average of 55 for June and 53 for July. Days on Market (DOM) reflect the average amount of days between when a property is listed and when it sells.
With current market conditions, properties that are priced correctly and marketed well are expected to sell quickly.
Months of Inventory
Months of inventory (MOI) reflects how long the current inventory will last at the current sales rate if there are no new listings for 90 days.
In July, the Calgary real estate market saw a 1.29% increase over last month with MOI at 3.62. This means that the market is close to "balanced," so it is fair for both buyers and sellers.
However, the MOI is slightly below 4 (the "balanced" rate), meaning the market is somewhat in favour of sellers.
Related: Common Things to Look Out for Before Buying Your Dream Home
Year Over Year Comparison
Looking at the market in July 2019 versus July 2020, total sales were 1641 last year and 1836 this year, which is a relatively large jump. This can be partially accredited to suppressed demand due to the COVID-19 pandemic. Over two consecutive months, there was a double-digit increase, which displays a relatively stable market.
There were 7373 active listings in July of last year and 6619 for July 2020, a decrease of about 10% of inventory. Compared to the previous year, the average price for July 2020 was $466,000 and $453,000 for July 2019. This displays an increase of almost 3% in price compared to the previous year. So, this demonstrates the recovery from the COVID-19 pandemic is coming to fruition now.
Compared to last year, there has been a drop in days on market, which means properties are selling faster. Also, months of inventory are relatively similar compared to the previous year.
In other words, if nothing new comes on the market, it's about three and a half months before inventory entirely runs out.
Product Type
Detached
Sales: increased between June and July from 1092 to 1171.
Active listings: increased by about 160 compared to June.
Average price: went up by $5,000, displaying the same theme of houses selling more and inventory not quite catching up to the same level. Therefore, prices are beginning to increase slightly.
Days on market: below 50, so if you're looking to sell a single-family detached home, you're likely to get a relatively quick sale.
Months of inventory: 2.81, indicating a stable seller's market.
Attached
Sales: slightly decreased.
Active Listings: increased somewhat.
Average price: June was $362,000 and $371,000 for July.
Days on market: declined slightly
Months of inventory: increased with more attached properties on the market.
Apartment
Sales: increased from 227 in June to 262 in July.
Active listings: increased by approximately 200 units of inventory.
Average price: dropped, which means there is more inventory, which causes the price to decrease.
Days on market: somewhat lower than last month at 70
Months of Inventory: six and a half months
Overall, the strongest market for July 2020 is the detached sector, followed by attached and then apartments.
Calgary Luxury Market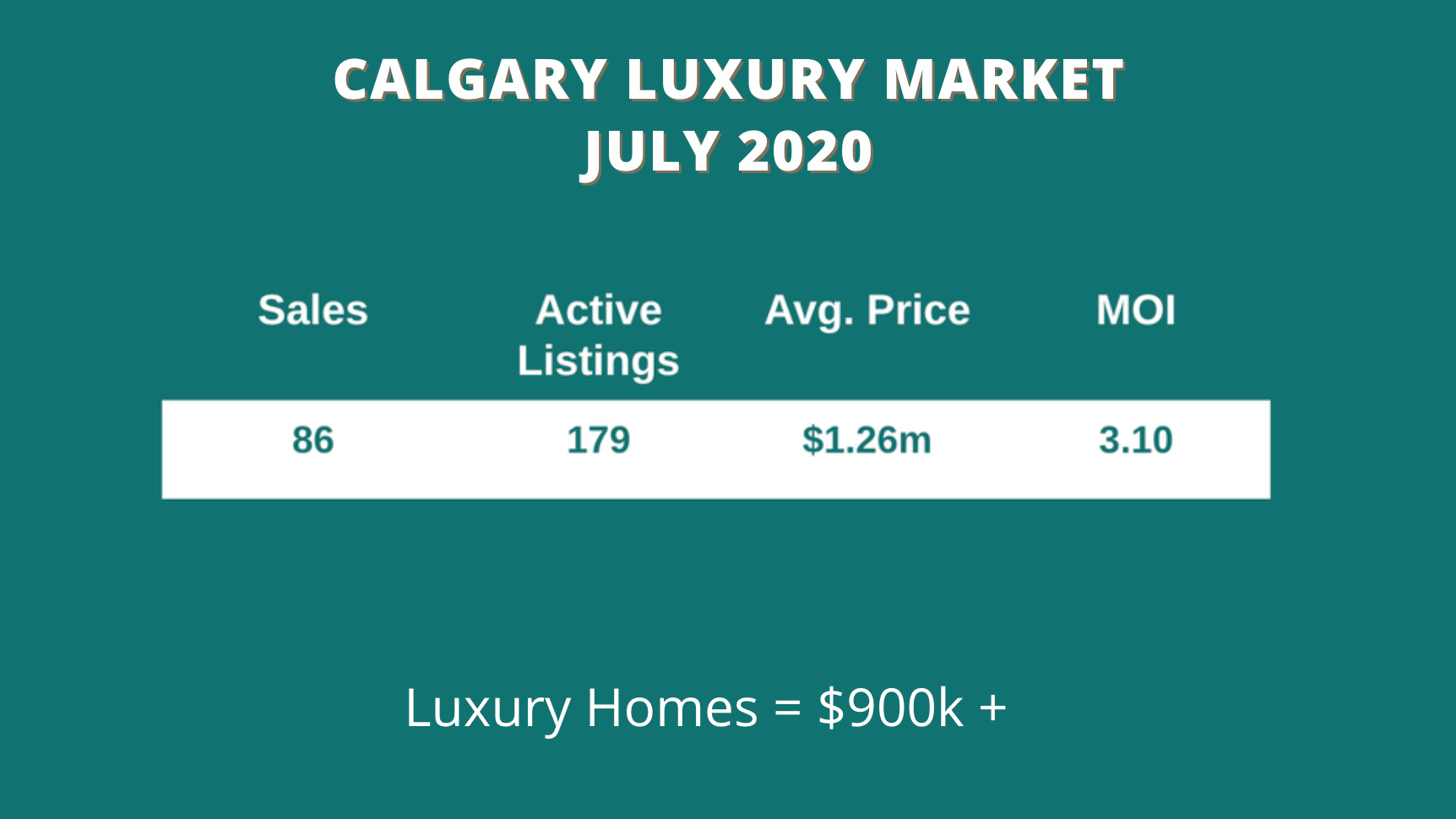 Calgary luxury real estate includes properties listed over $900,000.
There were 86 sales in the Calgary luxury market in July, and active listings as of July 31 were 179. These properties sold at an average price of $1.26 million with the market inventory at three months of supply.
These numbers display that the luxury market has somewhat started to recover, but last year it struggled quite a bit with some price decreases, more inventory and longer days on the market. Overall, there is a significant improvement in the luxury market.
The highest-priced home sold in Calgary for July was in Upper Mount Royal, which sold for $3.4 million. Homes in Calgary typically sell for a significantly higher price; however, when luxury homes like this sell after 11 days on the market, it's a positive sign of good things to come.
Market Summary
Overall, the market is strong, primarily driven by demand built up for a few months because of COVID-19. Secondly, interest rates are at a record low at about 2%. This rate can get even lower, depending on the term you're getting.
If you're looking to buy a house, it's a great time to take advantage of the low-interest rates before they begin to increase. If you're looking to sell, demand is high, so now is a great time to list your home and sell it quickly.
Related: Is Getting a Home Mortgage Still Too Difficult?
If you have any questions, please contact Lee Yousef at 403-689-3839. We'd be happy to answer any questions you have!