5 Places to do Outdoor Stairs in Calgary
Posted by Lee Yousef Real Estate Group on Monday, September 21, 2020 at 8:00 PM
By Lee Yousef Real Estate Group / September 21, 2020
Comment
5 Places to do Outdoor Stairs in Calgary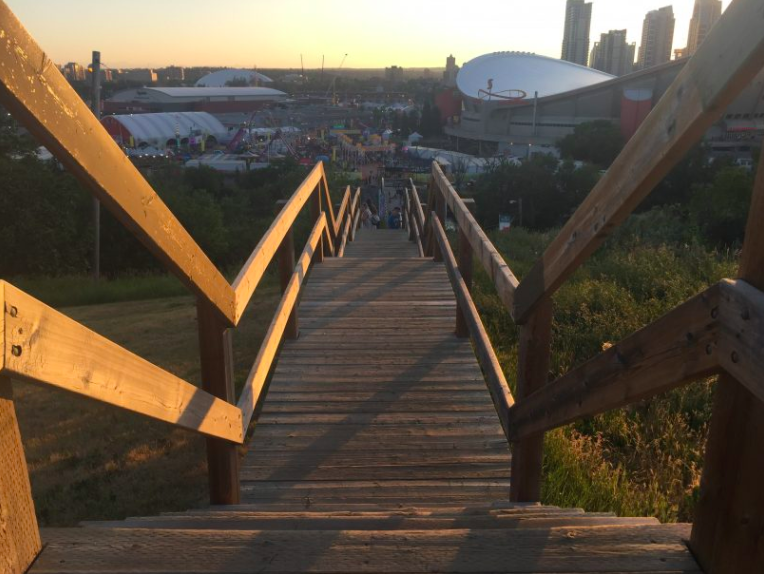 Photo via Vern Magazine
Alright Calgary, it's that time of the year; summer's coming to an end, we have a few days of fall and then right into eight long months of winter (if you know, you know). So now is the time to soak up these last few days of sunshine. Go for some patio drinks with friends, take one last float down the Bow River or run a few stairs to get some exercise.
If you've ever walked down Memorial Drive or Crescent Road, you may have noticed a popular set of (many, many, many) stairs that people enjoy running up and down.
Well, if you're into that kind of thing, there are a few spots around the city for you to take advantage of while the weather is still warm. If you've ever done stairs, you probably know what a killer workout it is - but if you haven't, let's just say we warned you.
1. The Memorial Stairs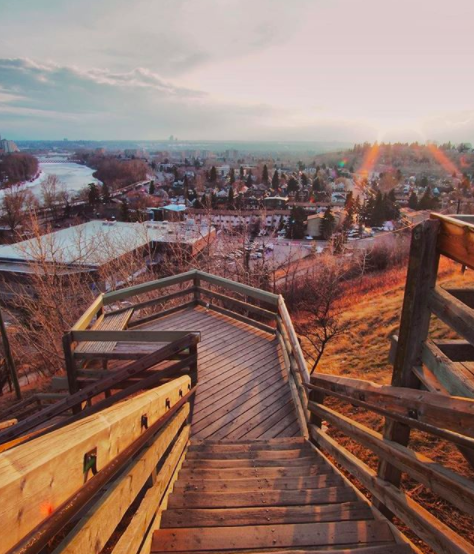 Photo via @tourismcalgary Instagram
The notorious Memorial stairs are kind of a legendary thing in Calgary. Whether you've done them or seen them, you probably know what a popular spot they are for Calgarians. The stairs are located at the top of Crescent Road NW and go down to the Calgary Curling Club along Memorial Drive. They climb McHugh Bluff and offer one of the city's best panoramic views once you get to the top.
2. The Edgemont Stairs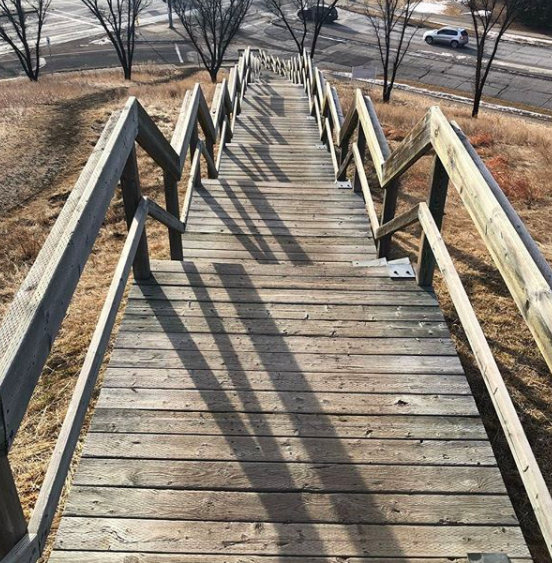 \
Photo via @author_jennieeaglespeaker Instagram
The Edgemont stairs are excellent for those who live in the northwest. The stairs are at the corner of Edgemont Boulevard and Edgevalley Drive, and climb up to the Edgemont Community Association. With 85 steps separated into 5 step sections, the Edgemont stairs are great for stair-climbing beginners.
3.

The Glencoe Stairs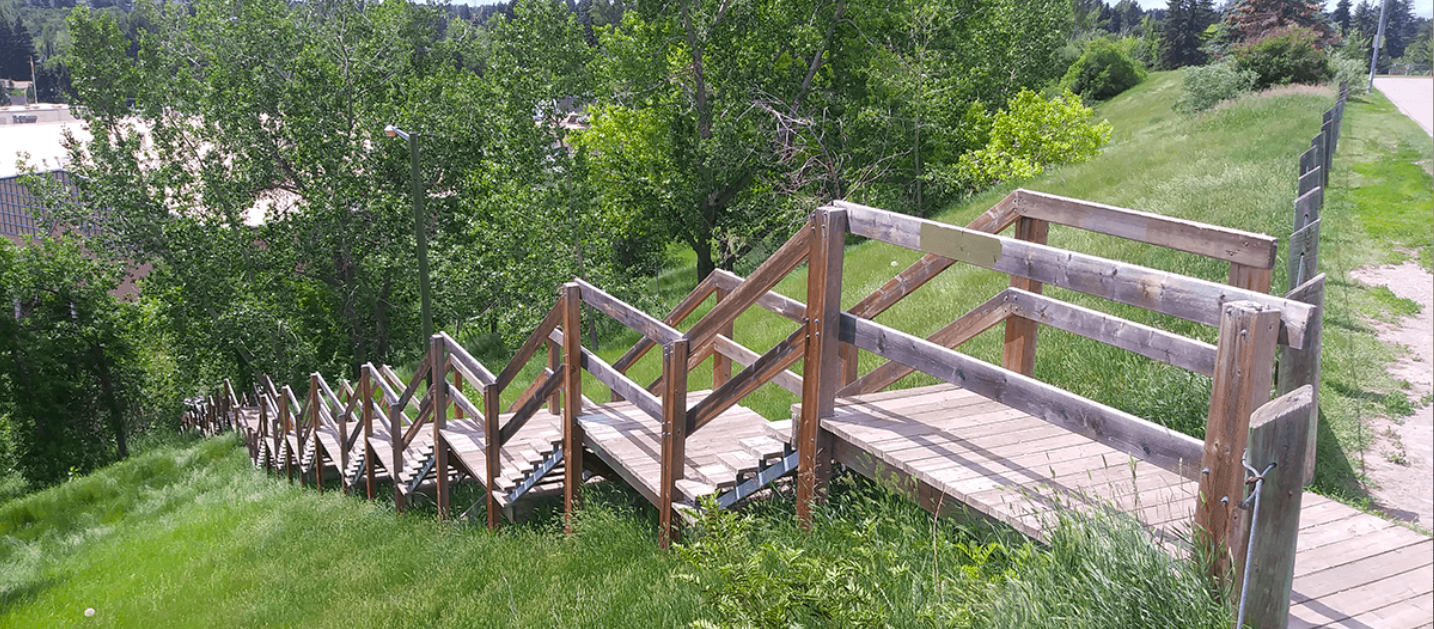 Photo via Calgary Stairs
Considered one of the top three staircases in Calgary (yes, that's a thing apparently), the Glencoe stairs comprise 156 steps, so they're a little more challenging. You can find them behind the Glencoe Club in Elbow Park, and they climb up to Upper Mount Royal with a nice view of South Calgary. The Glencoe stairs are one of the more low-key stairs in the city, so you won't find them as busy as the Memorial Stairs.
4.

The Scotsman's Hill Stairs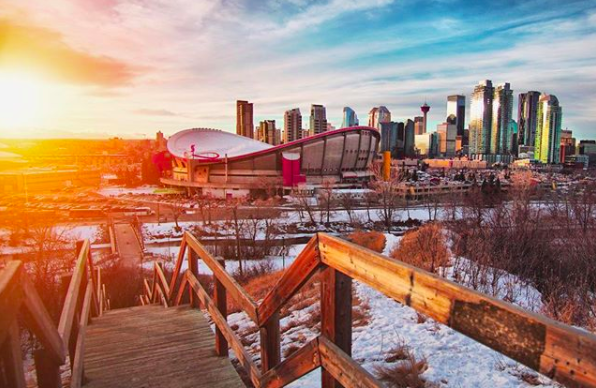 Photo via @ana_staise Instagram
If you're looking for a set of stairs with a rewarding view, look no further. The Scotsman's Hill stairs comprise 159 steps leading up from the Elbow River, with stunning Victoria Park and downtown views. It's one of the top stairs in the city, so if you're up for a challenge, make sure to check them out!
5. The Signal Hill Stairs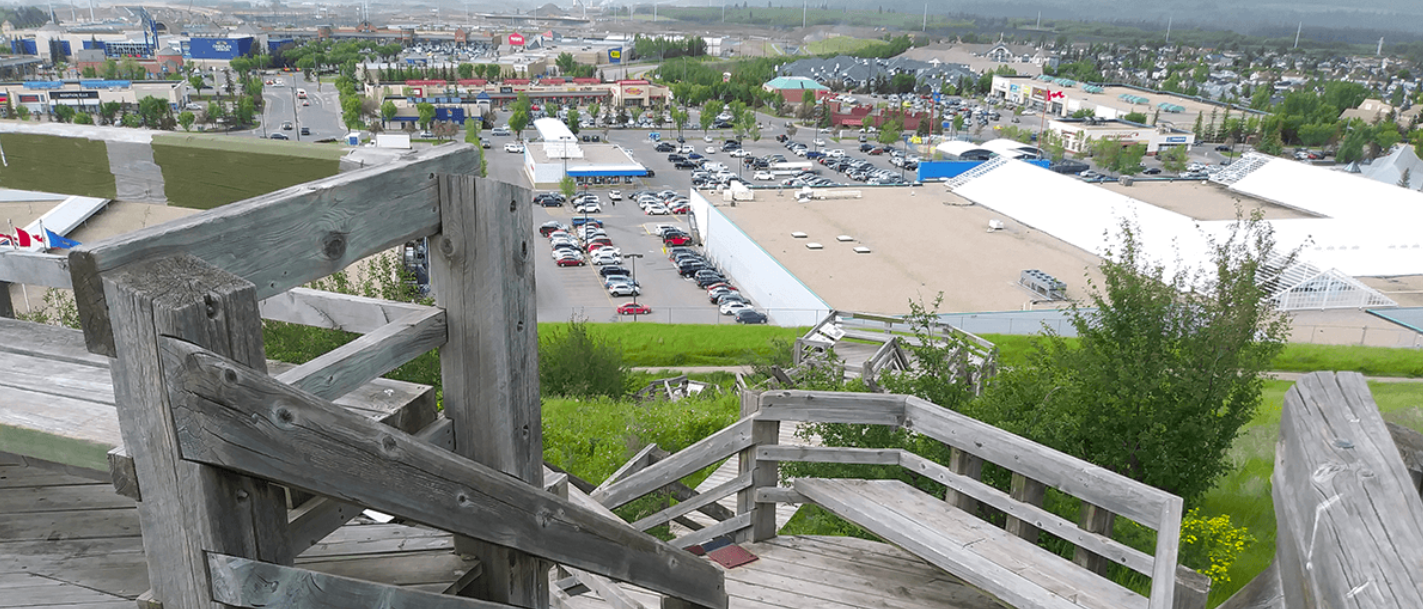 Photo via Calgary Stairs
If you're doing some shopping at Westhills, why not get some exercise in while you're at it? The Signal Hills stairs offer 172 steps climbing up to Battalion Park. It is one of the busier stairs in the area, making it a little undesirable for some. But if you live nearby, they're a great option to get outside and get some exercise!
Okay Calgary, there you have it. If you're crazy enough to do some stairs in your spare time, now's the time before winter hits! So walk, run or squat up some stairs and don't say we didn't warn you!